Yamamoto Kansuke 28mm wargame
Yamamoto Kansuke was a Japanese samurai and general of the Sengoku period in the service of Takeda Shingen.
A brilliant strategist, he began as commander of the infantry (ashigaru-taisho) in the service of the Takeda clan.
He died during the fourth battle of kawanakajima, led the pincer maneuver in the fourth battle of Kawanakajima but believing he had failed by bringing dishonor to his lord he charged with his servants the enemy lines finding death.
A legend describes him as blind in one eye and lame, which is why he is often depicted holding a naginata as a support for his weak leg.
The base made for the IMPETUS wargames regulation represents the commander on horseback armed with a spear just before starting the battle.
One servant holds his horse while another is holding out his helmet, a third samurai holds his personal banner.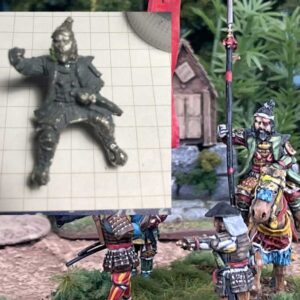 The miniatures used are Perry miniatures and Warlord miniatures.
The commander is a modified 28mm Perry miniature using an Old Glory head and changing the pose, the yari is from the modified warlords with two metal strips.
The samurai who hands the helmet is a miniature of the Warlord miniatures modified in the pose.
The commander's personal banner is self-constructed using sheet metal.
Yamamoto Kansuke 28mm wargame