Uesugi Kenshin 28mm miniatures
Uesugi Kenshin, born Nagao Kagetora, powerful daimyo who ruled the Echigo province of Japan during the Sengoku period.
Famous for his rivalry with Takeda Shingen, a daimyo from the nearby KAI province, he is also known for his great military prowess.
He was also a skilled samurai and for this reason he was nicknamed "the dragon of Echigo" as opposed to his opponent Takeda called the "Tiger of the Kai" to remember the clashes of Chinese mythology that sees the dragon and the tiger opposed.
After a period of internal wars that led it to dominion over a very divided province of Echigo, it stands as a barrier to the expansion of Takeda Shingen.
The battlefield on the plain of Kawanakajima that sees them face each other 5 times, even if the main battle was the fourth battle, which even saw the two daimyo face each other directly.
Kenshin with a clever tactic managed to break through the enemy lines riding with his horse up to the command of Shingen, he tried to hit him with his sword, but Shingen parried the blow with his iron war fan (tessen).
A guard from Shingen managed to stop Kenshin's attack by injuring his horse, thus forcing him to retreat so as not to be captured.
Shingen was thus able to organize a counterattack that forced Kenshin's army to withdraw from the war camp.
Many soldiers drowned in the river near the battlefield, while others were shot down by the Takeda clan generals.
Even today it is not clear who won the fight, because there were losses on both sides and neither of them managed to reach the goal of eliminating the enemy army.
This command base for the Impetus wargame rulebook represents Uesugi Kenshin on horseback receiving news from his messenger identifiable by the typical Horo with the Hatamoto monogram of the daimyo.
Around him a foot guard with Kenshin's personal mon (red sun on a blue field) and a banner holder with the lord's motto.
The Kenshin miniature is a modified Perry piece with stucco and details from the warlord kit while the horse is from Aw Miniatures.
The samurai guard and the banner holder are miniatures from Perry Miniatures while both the sashimono and the banner are self-made.
The kneeling samurai is a miniature of the Warlord's plastic set modified in the pose.
The pose is designed because the hand used for the katana is almost behind the back, as was required of the servants in the presence of their lord, not only to show deference but also for the safety of the lord himself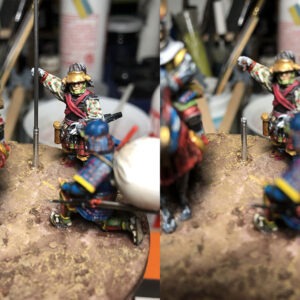 To transport the base safely I thought of a system that allows you to disassemble the large banner during transport thanks to an aluminum tube, then painted, fixed to the base.
This system has also been used for other bases with very tall or delicate banners.